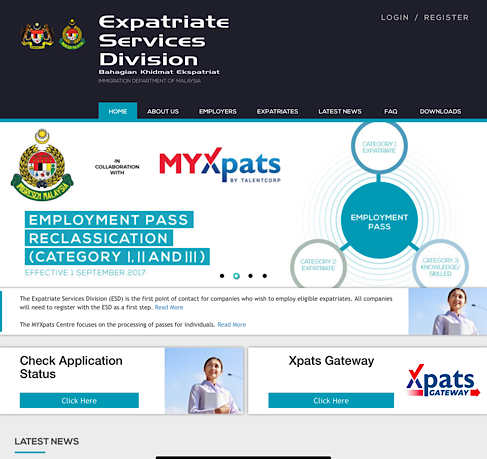 Applications for Expatriate Employment Passes (Employment Pass-EP) would be implemented totally through the Single Window Platform (SWP), also known as the Xpats Gateway System, as per the announcement made by YB Rafizi Ramli, Minister of Economy, on May 31, 2023.
The Xpats Gateway system was formally inaugurated on June 15, 2023, demonstrating the government's dedication to digital governance and industrial mesa facilities that support Malaysia's economic and investment ambitions.
Companies in the mining, quarrying, and mineral processing sectors can now apply for expatriate positions and Employment Passes (EP) through the Xpats Gateway System, which can be accessed through the ESD Online System (ESD Online) at esd.imi.gov.my to facilitate the EP Support process by the JMG and the subsequent approval of the Employment Pass (EP) by the Malaysian Immigration Department.
The ESD Online System at esd.imi.gov.my has comprehensive information on the Xoats Gateway Guidebook (Guidebook), Frequently Asked Questions (FAO), and System User Manual (System User Manual).
Any inquiries should be directed to the Techno Economics Unit, Mineral Economics Branch, JMG Headquarters at 03-8871 6000.